Navigation


Switch to German version

---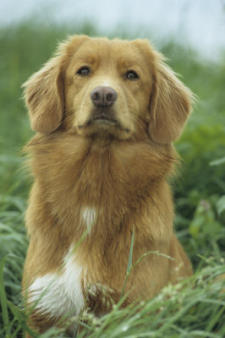 Zuchtzulassungsprüfung on May 7th, 2006
Judge: Gisela Werner
Smaller, well built bitch, excellent type, excellent hair, good markings, expressive bitch's head, correctly worn featherings, showing wide reach in movement, hindquarters a little tight.


Wesenstest on November 19th, 2005
Judge: Karrenberg
The 14 months old Toller bitch shows a great amount of agility and activity. Her drive for playing is very distinct. She acted very spirited and is persistent and attentive. The bitch is very tough. Her composition for hunting is very distinct as well. She has a very good drive in retrieving. The bitch very willing to subordinate and has a strong bond to her owner. Confronted with strangers, she acts friendly and confidently. Lying on the back and in the test circle she is confident and unimpressed. She is resilient to optic and acoustic impulses. The dog is steady to shot.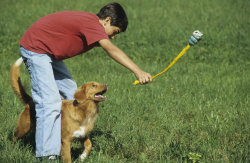 In summer 2004 our Caylee was finally born.

8 weeks later a little and self-assured Toller bitch moved in with us. From the beginning she found her place in our mixed human-and-dog-pack and within no time she won the hearts of all two- and four-legged family members. She loves children and handles them with great care.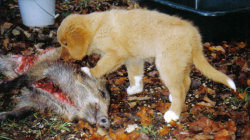 As a puppy Caylee already showed great drive in retrieving. Every plastic bottle, paper bag and even dead birds and mice were picked up and happily brought back by her as a matter of course.

While working Caylee proves to be very spirited. With great enthusiasm she searches, finds and retrieves. Her absolute steadiness and calmness are very impressing.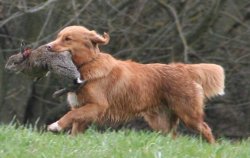 Caylee is very willing to please which becomes obvious in its best while working.
As she learned very quickly, we were able to proceed with her training with great determination:

At the age of 2 she passed the "Verbandsprüfung nach dem Schuß" (VPS) of the JGHV with flying colours and only one year later she passed the RGP of the DRC as well. At the same time she succeeded in several field trials in France (Res-CACT), so she earned the title "Trialer à la Francaise".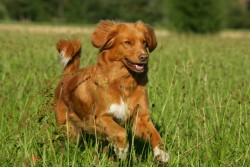 With perfect outcome we also started at several working tests. Highlight was our participation at the German Cup 2007 and the 1st rank at the working test in Aichach 2008 in class F.

With her first two litters (A-litter January 2007, B-litter April 2008) Caylee proved to be a great mother. She takes great care of her puppies and "educates" them consistently. By now all of her nine puppies are highly motivated workers. They all show the required steadiness and are very friendly to people and other dogs.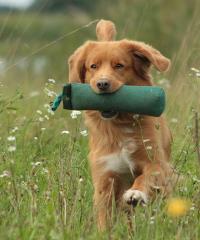 In 2009 Caylee raised 7 wonderful puppies that today (4/2011) are able to show several working test results and have a very good healthiness.
In the same year Caylee wins the open class in a workingtest (Stormy Weather) as the first toller in Germany and presented herself with consistent very good results on all of the following starts in this class.
In summer 2010 our girl wins the Sweden Speciality's first official tolling test in the open class and is also here the first toller in Germany being able to show this result. She really is an outstanding working dog!

Fall 2010: We get the certificate from FCI for the "INTERNATIONALER SCHÖNHEITSCHAMPION MIT ARBEITSPRÜFUNG"!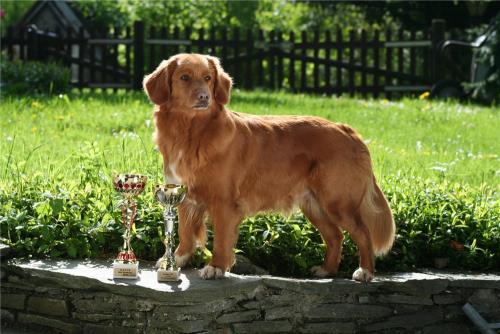 State: April 2011