Navigation


Switch to German version

---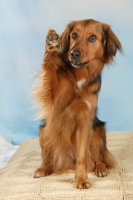 Our family, that is my husband Joachim and I, my 4 children (between 18 and 26 years old) and our 4 dogs, lives on the outskirts of Augsburg in a house with a nice little garden.
My passion for dogs started in the year 2000 with our crossbreed bitch Tessa. Tessa was a great teacher and later on helped bringing up and training our Toller puppies.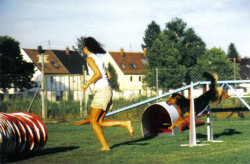 Through Tessa I got to know different kinds of dog activities: we earned the companion dog title, did some agility and obedience training and in a fun works course learned a lot of tricks and dog dancing elements, which we performed at some shows.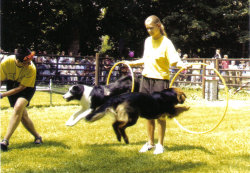 My daughter Anika was a great help and to this day she does obedience training with Tessa and takes her to trials.
The work with Tessa gave me the chance of helping out in a dog school and learning a lot myself too. I started to do puppy and junior trainings, which was a lot of fun. I realized that this is what I really want to do: analyzing dog behaviour and training dogs!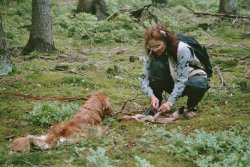 When our first Toller Jambo moved in with us, I got to know the particularities of training a retriever. I realized that we both (my dog and I) very much enjoy dummy training. And soon Jambo's love for hunting and working with game infected me too.
I did some courses with Jambo and successfully took part in a few trials.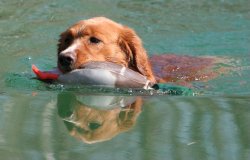 At the same time as we got Caylee, my husband and I decided to do a hunting licence. We received it in summer 2005 and since then hunting, especially hunting ducks, has been our second passion. So in the end our dogs brought us to hunting and the possibility and duty of training our retrievers for hunting.






As Caylee's health and working performance developed as we had hoped, we decided to start breeding Tollers for hunting and as family dogs.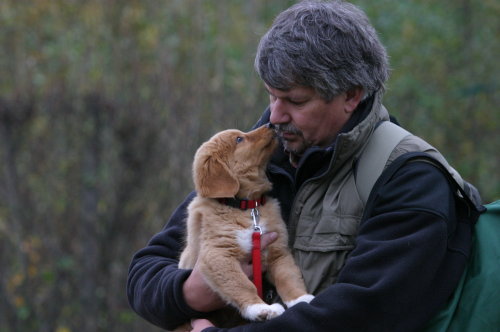 Our first litter was born in January 2007. We kept our second bitch Kjuna from it.

Thanks to my experience in training dogs and my participation in a lot of different (hunting) trials, I am able to coach the new owners of my puppies intensively. I organize puppy and junior trainings on a regular basis. The dummy training which usually follows is currently being developed.

Our second litter, the "Bluebell" puppies, were born in April 2008. To this day all of them have developed excellently. Some of our B-litter dogs already got very good results at shows. In autumn some will first participate in working trials.

Our third litter, 7 beautiful puppies of Atago the Spirit of Heyoka and Caylee were born on the 3rd of May 2009 (Jambo's 7th birthday!). In the meantime they have all moved into their new homes in Germany and abroad and we are curious to see how they will develop.

In May we managed to fulfil a wish we had had for a long time: Gunner (Foxgrove's Moonlight Gunner) came from Canada to complete our mixed pack. We very much enjoy this vivid boy and thank Diane and Fred that they have entrusted us with this dog.



State: August 2009