Navigation


My understanding of breeding Tollers [EN]
Switch to German version

---

With my kennel Hunter's Moonlight it is my ambition to breed
dogs with a stable character, which are willing to work, healthy and beautiful.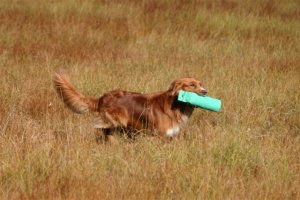 When selecting dogs for my breeding, I choose open-minded, friendly and curious dogs which have a strong bond to human beings. They should be calm and relaxed towards their environment and they should not appear to be wound up. I base my decisions on the Wesenstest (of the DRC or character tests of breeding associations from abroad).
I also find it very important to expose the puppies to different situations, people, children and other animals to ensure a good imprinting.
My puppies grow up in a family with children in a house with a garden. They learn to drive in the car and we do little walks through the woods and fields.

The dog's will to work is very important to me. Originally bred for hunting, I want to sustain and develop the Toller's predisposition for retrieving. Hunting is no must for the Toller, but if it does not hunt the dog should have the opportunity to develop and show its abilities working with dummies instead. Other dog sports like rescue or tracking work is also suitable for training and keeping Tollers appropriately. In any case, the dogs have to be kept busy because otherwise their senses wither and they become a burden for their environment and their owners.

The dog's health is judged by its HD and ED results. In addition I have my dogs tested for PRA in order to prevent this genetic eye defect. By choosing my stud dogs very carefully and by considering the genetic diversity of the Toller, I hope to contribute to the preservation and improvement of the breed.

I try to breed dogs whose appearance is as close as possible to the breed standard. Although I do not spend a lot of time at shows (I rather spend my time at field trials), I enjoy Tollers that conform to my ideal of beauty. My stud dogs are therefore also chosen so that they match my bitches in their appearance.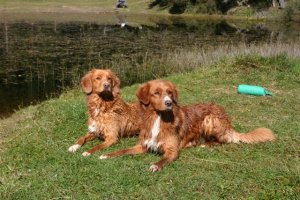 State: April 2006