Navigation


Switch to German version

---

In summer 2012 the beautiful Bitti (Kilobyte vom Lech-Toller Nest) came to visit us from Finland for a date with our Gunner. They were a very homogeneous couple and after the positive ultrasound in September we decided that we wanted to have a puppy girl out of that litter. Bitti's pedigree combines the genes of my Jambo and my Caylee (Bitti's mother is Jambo's sister and Bitti's father is Caylee's brother)!

Eight puppies were born the 30 September: 3 boys and 5 girls, and that meant for us: we are getting a baby girl! Eight weeks later we fetched little Kayra traveling with the plane to Finland - she had a very relaxed journey home lying in our arms!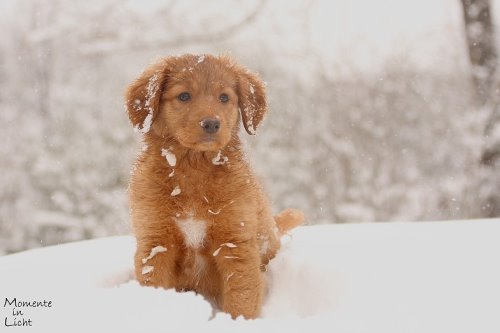 Kayra is a happy and curious girl, who explores her environment actively without getting crazy and too overexcited! Like her father, she is very affectionate towards humans and adores all people and dogs as well; she wants to please me with everything she does! Kayra has a very good nose which she uses very well: undergrowth and difficult area to work is not a problem for her!

Now we want Kayra to grow and we are looking forward to the future with our Gunner daughter.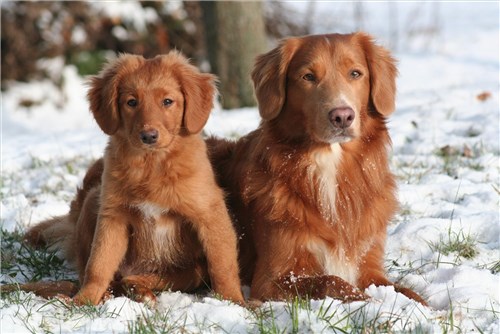 30 September 2013: Kayra celebrated her first birthday!
She learnt a lot in her first year and developed into the great girl we were hoping for: happy, instinctively with a very good nose and loads of fun when retrieving!

She impressed the judge in the puppy class at her very first show (DRC Speciality Show), she received a "very promising" - she is built very well and has an excellent deep red coat.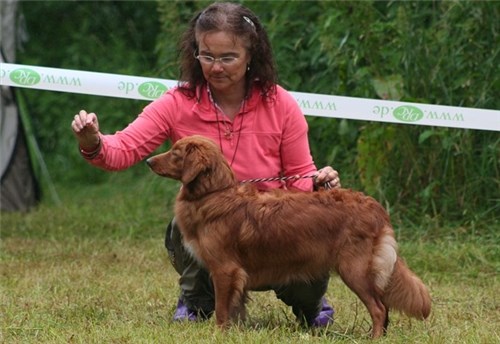 Next to doing dummy with her, I trained her in the fields as well! In summer, Kayra made such good progress that I entered her for the Jugendprüfung - JP/R DRC (junior hunting competition in Germany). She passed the test as the youngest dog of the day with amazing 251 points! She worked very well and got to show her amazing retrieving temperament.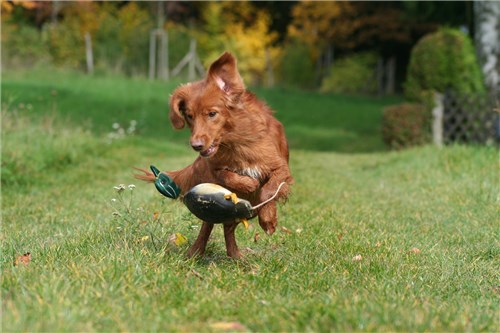 Here you can see her joy when retrieving very well :-) and she shows the same joy when working with real game (in contrast to the work with Dummys)!
Her father Gunner became her best friend; she loves to run, have fun and play with him! It's just adorable to see those two redheads :-)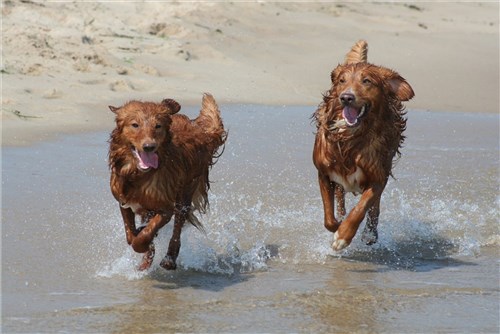 March 2014: Kayra is 18 months old now, developed very well and has already experienced a lot: she had no problems with her first heat and at her first International Dog Show in Nuernberg she proved that she is not only a good worker but a great show dog as well - she received an excellent 2 in the intermediate class! When raising my puppies Kayra is the best auntie you can imagine: I am amazed how she plays and even traines the puppies to behave.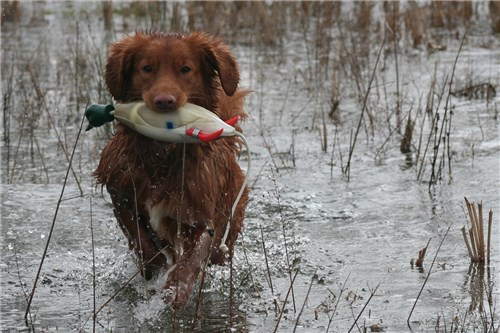 2014 was the year of Kayra's field training:

In spring we started with the Abrichtlehrgang in Aichach and finished the Abrichteprüfung and the Jagdeigungsprüfung (Allgemeine Brauchbarkeit) - all these tests are necessary in Germany to be allowed to participate in hunting. In September, when we were on vacation in Sweden, we participated in a tolling competition as well and Kayra received an awesome third place in the beginners class (NKL).
The highlight of our field competitions this year was our pass of the Bringleistungsprüfung (BLP) with excellent points. With this pass she is qualified for the program "Special hunting-breed".
This is a great success for a just - two - year - old girl!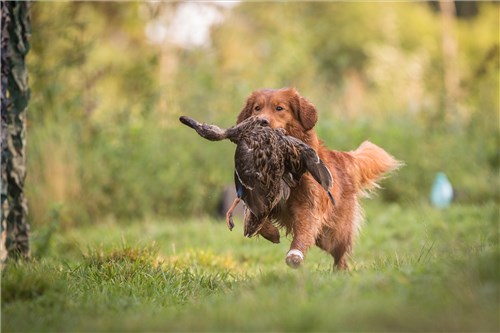 Besides all that Kayra passed the Dummy A and she received the CAC and a BOB at an International Dog Show in Czech Rebublic!!!

A successful year ends and we are looking forward to her first litter in summer 2015!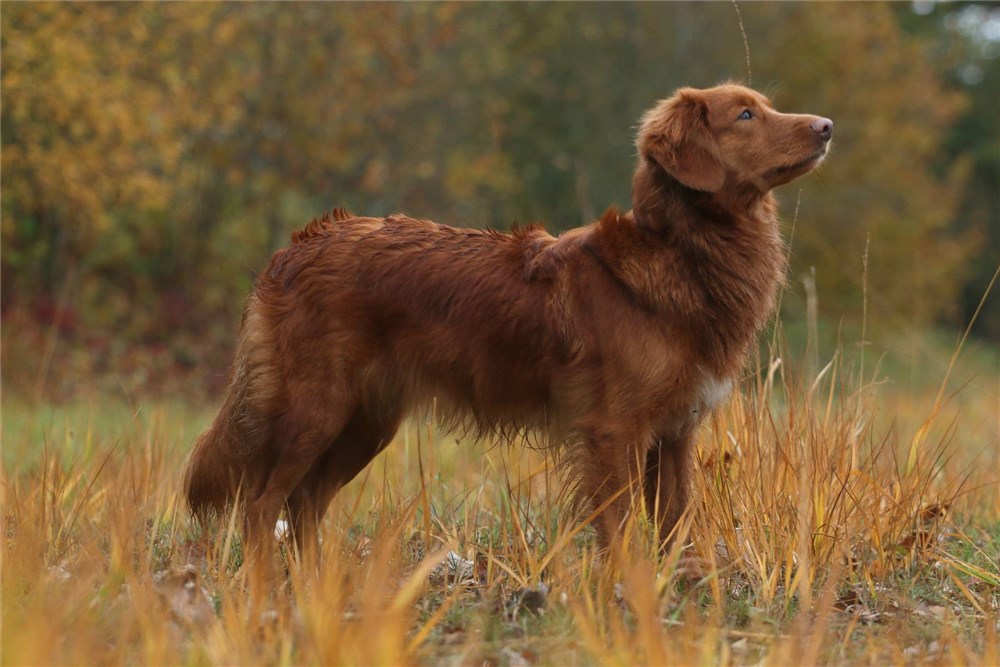 March 2015:
Kayra starts her working test season this year with a team start at the Biber-Cup (she was the A-dog) and we, Judith with Baven and Birgit with Kari received the Judges Choice! Kayra impressed with her ability to mark and her steadiness!





State: Juli 2015